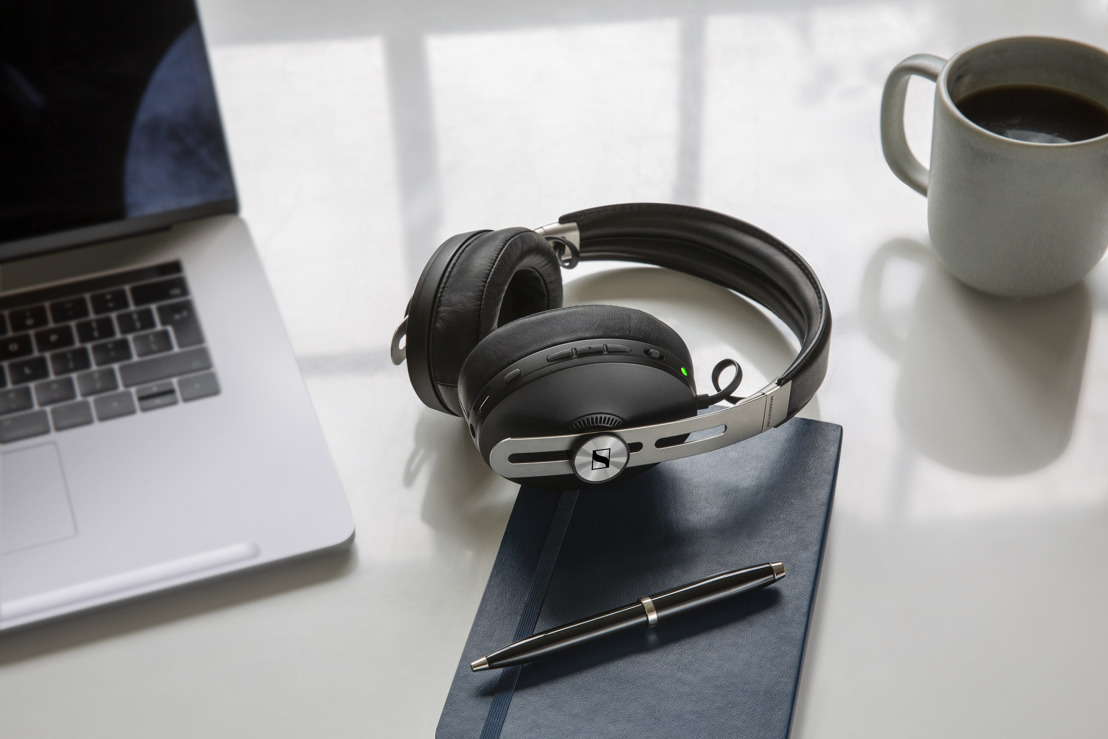 Sennheiser partners with Music at Work Week
Sennheiser teams up to encourage music in the workplace with Music at Work Week
LONDON, 14 November, 2019 – Sennheiser has announced that it is the official audio partner of Music at Work Week (MAWW), taking place between 25 November and 1 December, which celebrates the benefits of listening to music in the workplace on employee well-being and productivity.
Work-related stress and anxiety have a significant impact on productivity. It costs the UK economy billions of pounds each year, with over 15 million work days lost in the UK annually due to work-load related health problems.
Music at Work Week has been created by Dr. Julia Jones (aka Doctor Rock), who has been prescribing music for personal health and business health for over 20 years. Sennheiser is passionate about its commitment to audio and is supporting MAWW's mission to transform workplace well-being for employees through music in the UK, and beyond.
Studies have shown that music plays a key role in positively impacting mental and physical health. A recent WHO report highlights that music has great potential to improve global health, but it is not yet being properly recognised or harnessed. Listening to music daily helps both the brain and body, as it can enable listeners to enter into a "flow state", or a place of deep concentration, which can drive productivity.
This is a huge opportunity for businesses that are looking for new ways to support employee wellness and increase efficiency.
Tom Martin, Retail Sales Director UK, Ireland & Nordics at Sennheiser: "An optimal environment is needed to encourage 'flow state', which can drive productivity. Part of this is avoiding distractions that stop us from reaching this state, such as conversations in the office, large meetings, email notifications or printer and copier noises, among others".
"Headphones can become an effective tool in helping people to concentrate in a busy environment, and high-quality headphones strike the perfect chord when it comes to providing a good overall listening experience. Listeners can enjoy superior audio through accurate sound reproduction, block out outside noise and prevent the sound from leaking".
Author and academic, Dr. Julia Jones, said: "Whether an individual's preference is for relaxing or binaural music to enter a calm state or upbeat pop music to keep them motivated, regardless of personal music preference, music can have a positive impact on health and well-being of listeners and has the ability to assist in the management of 'stress hormone' cortisol".
"We want as many businesses as possible to support Music at Work Week internationally. This is a serious issue and costs employers and the economy billions of pounds a year. Technology has had a massive effect on the working environment and health. We want to spark a workplace transformation revolution."
For more information please visit www.musicatworkweek.com.
About Music at Work Week
Music at Work Week, taking place between 25 November to 1 December, calls on employers to encourage staff to listen to music in the workplace to improve health. The first-ever awareness week hopes to enhance well-being and mental health among workers after studies proved a daily diet of music can assist the brain and body, improving productivity. Dr. Julia Jones founded Music at Work Week and will be hosting listening sessions at companies of all sizes during MAWW to encourage employees to embed music into their workdays.
About Dr. Julia Jones
Julia Jones (aka Doctor Rock) has been prescribing music for personal health and business health for over 20 years. She encourages everyone to acknowledge the scientific evidence and consume some music every day as part of their daily diet for good health. As a professional Sport & Exercise Psychologist she worked with Olympic Squads in the 1990s using music to assist with their anxiety control, motivation, self- confidence and sleep.
Julia has continued using those same neuroscience principles to help clients in the private and public sectors use music to connect with customers, drive motivation, achieve peak performance, cope with stress, lose weight, improve fitness, maintain brain health, boost social health and improve sleep quality. She launched the first GP Referral programme in the South East in the 1990s, encouraging GPs to refer patients to local exercise to music classes.
Her MSc research identified the effects of music synchronisation on physical endurance and laid the foundation for decades of research that followed it. Her PhD research examined music taste and highlighted how the lifelong connection with the music of our youth can be harnessed in later life, especially in the treatment and prevention of cognitive illnesses (such as dementia and Parkinson's Disease) and to combat loneliness.
She launched the consulting practice Found in Music in 2003 to help brands use music experiences to connect with customers. Found in Music is now a leading specialist in the use of music in customer experience. Clients include the Mayor of London, Gibson Guitars, Network Rail, Saga, Southeastern, Wembley Park, Battersea Power Station, Tower Hamlets Local Authority, NHS, City of London, Transport for London.
Maik Robbe Communications Manager UK & Nordics, Sennheiser